– Zelhem, Holland, April 7-8, 2017 –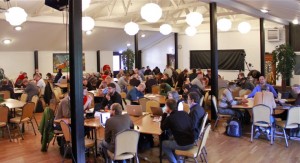 The MMF Consultation is the key gathering for people interested in learning how to use mobile technology for the kingdom! Our prayer is to establish a mobile ministry movement so that every unreached person will have a chance to encounter Christ and His kingdom in a compelling, contextualized fashion through their personal mobile device by the end of 2020!
Program
The 2017 Mobile Ministry Forum Consultation will meet in Zelhem, Holland from Friday, April 7 (8:00 a.m.) to Saturday, April 8 (4:30 pm). The format includes TED-style presentations, discussion, ministry field reports, workshop breakouts and networking time. Here is the work-in-progress schedule (Google doc may require log-in). You can see photos or a slideshow from the last gathering.
Live Stream
We will live stream the main sessions through Facebook Live through the MMF Facebook page. Reference the schedule to know when to view.
Consultation Objectives
Advocate / Catalyze: Challenge and resource the Church towards investigating and initiating mobile ministry.
Equip: Resource the Church with the knowledge and tools needed for implementing mobile ministry. Provide training on specific areas deemed critical (mobile site development, texting ministry, etc).
Collaborate: Establish and deepen relationships with others active in mobile ministry. Create a context for greater partnering. Advance the work of collaborative projects (in-progress and new initiatives).
Anticipate: Identify and leverage emerging trends and technologies with potential impact on future ministry opportunities.
Participants
Leading thinkers and practitioners from diverse organizations will gather. We hope to have 100 leading mobile ministry innovators to join us this year.
History
The first Mobile Ministry Forum Consultation was held in Ringold, VA, in December, 2010 and drew 16 mission strategists representing 15 organizations. This gathering grew out of an increasing interest in the mobile device and its implications for Great Commission ministry. A second consultation took place in Waxhaw, NC, in December, 2011 involving 50 participants. The third consultation took place at Wycliffe headquarters in Orlando in December 2012 with 119 participants from 57 organizations. The fourth consultation took place in Orlando at Wycliffe with 132 participants from 85 organizations. Our fifth event included 95 people from 56 organizations in Zelhelm, Holland. Here are the executive summaries from 2010, 2011, 2012, 2013 and 2015.
Location
De Betteld – Zelhem, Holland.
Consultation Fee
Early Registration: $75  (single) / $110 (couple) (through February 15, 2017).
Normal Registration: $95  (single) / $140 (couple) (February 16 – March 31, 2017)
Late Registration: $120 (single) / $180 (couple) (April 2017).
Student: $40 (student). Jaime at jaime.chambers@cru.org for this price.
The consultation fee does not include housing. Like EMDC, we keep costs as low as possible to allow a larger number of participants. Though shorter than EMDC, the MMF Consultation is more expensive, but we were able to keep the cost the same as 2015! The majority of the consultation team volunteers their time, but we have found a few roles are key to remunerate. EMDC is large enough to receive free meeting space whereas we are not eligible (meeting room costs alone are €1600). Here is the final budget from our last event (you'll see we're not making money off the event).
EMDC
We strongly encourage participants to consider the Eurasia Media and Distribution Consultation held April 3-6 at the same venue.
Housing
One-time site use fee (wifi, towels, linens): €21,50
Single room in a shared chalet: €57
Double room shared in a shared chalet: €49
Single small room with a bunk bed in a shared chalet: €49
Room in the Inn with four bunk beds: €35,50
Housing rate includes one night's housing and dinner, breakfast, lunch and coffee/tea breaks. Housing will be booked directly with De Betteld. Go to the registration site to register. There you will find the link to secure housing.
Refunds
Through February 15: 75%. Through March 15: 50%. After March 15 : 0%.
Promotional Table
We have five spots available for a promotional table for your organization. These will be offered on a first-come, first-served basis. They are $100. Email Jaime Chambers to secure one of these spots.
Transportation
De Bettled will provide free transportation to and from De Bettled to the Doetinchem Train Station. Make sure you tick the box for transportation when you book your lodging.
Air (arrival): The venue is two+ hours from Schiphol (Amsterdam Airport) or Dusseldorf International Airport. It is important that you determine to arrive on the designated arrival dates early enough to get to the venue.
Air (departure): Trains from Doetinchem commence at approx 6:00 am.
Ground: The nearest town to the venue is Zelhem. The nearest train access to Zelhem is the town of Doetinchem. Participants are asked to make their way to Doetinchem from whichever hub they are flying in to. Doetinchem is accessible from any of the major airports via Arnhem by train. The conference center, De Betteld, will operate a shuttle bus from the town of Doetinchem.
Questions
For questions about registration or housing contact Jaime Chambers at jaime.chambers@cru.org.
Windmill, Zelhelm, Holland photo credit By Groucho M (Own work) [GFDL or CC BY-SA 3.0], via Wikimedia Commons