Over the last 4 years, the Mobile Ministry community has submitted over 5,200 resources on Twitter using the #mobmin hashtag. These resources have helped the community to better understand the mobile landscape, and integrate mobile technology in their current work. We wanted to make it easier for ministries to discover these resources! So today we are launching the MobMinResources.org website. This new website is a dedicated place for the community to discover, discuss, promote, and share these resources. Here are 5 ways you can use this new tool.
1) Submit Resources
Twitter users can continue to share resources with the hashtag #mobmin. The new website will automatically retrieve the resource and add it to the website. You can also add more hashtags to your tweet, and the website will tag the resource with those hashtags.

If you prefer to use the new website to submit a resource, you will need to create an account first. Once you have an account, you can submit the resource on the Submit page.
2) Searching
Now that we provide all the resources in a single place, you can easily search through those resources for specific articles that apply to your unique need. Simply add a few keywords in the search box on the right, and hit the Go button.  If you need to refine your search results,  you can use the Advanced Search feature.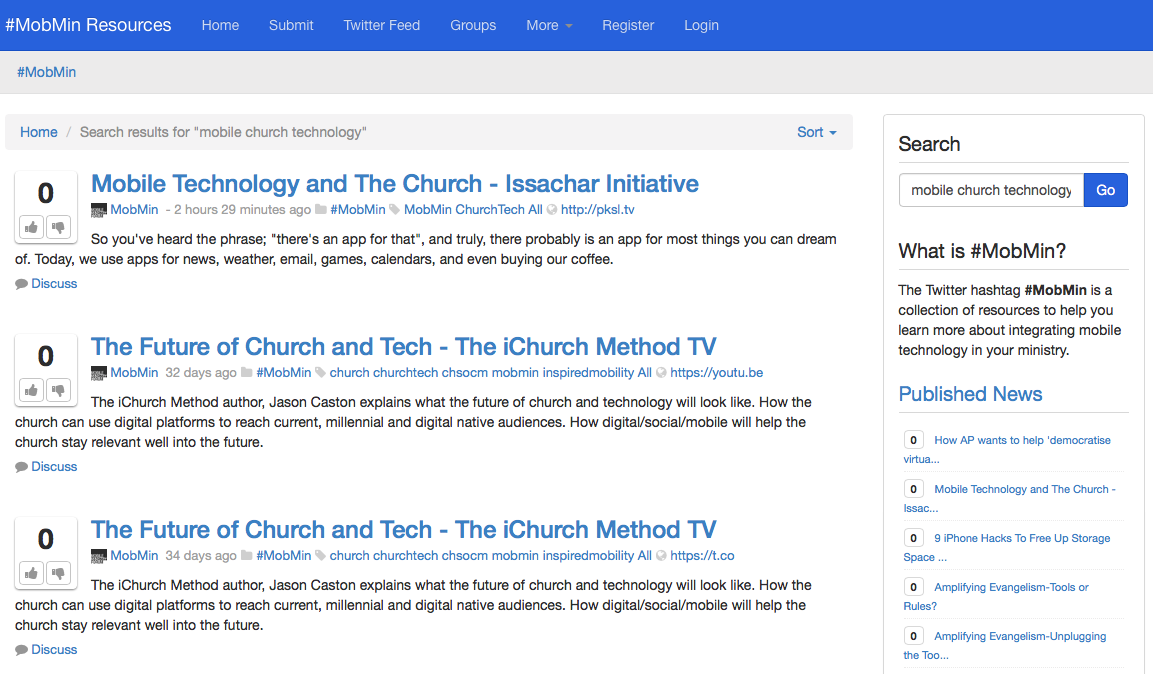 3) Twitter Feed
The new website also retains a history of all the tweets that have used the #mobmin hashtag. Just visit the Twitter feed page, and you will see a list of all the tweets from the newest to the oldest. This is a great way to see the Twitter activity in the Mobile Ministry community.

4) Voting & Discussions
What makes the new website powerful is the community tools that it provides. Each resource gives the ability to like or dislike, and comment on the resource. For each like a resource receives, it increases the visibility on the website. For each dislike, it decreases it's visibility. You can also start discussions around each resource by adding your own comments to it.

5) Groups
Groups provide a unique way to share articles with other members who share a common interest in a topic. Simply create a group on a specific topic, and you can begin adding resources to that group. When other members join your group, they can also add new resources.
If a group is made public, visitors to the website can browse the group and it's resources. As an example, I started a Mobile Development group that is public. This group will be a place where we can share tools, tips, and tricks to help in mobile app development. Feel free and check out the group. You can also join the group and begin sharing your resources too.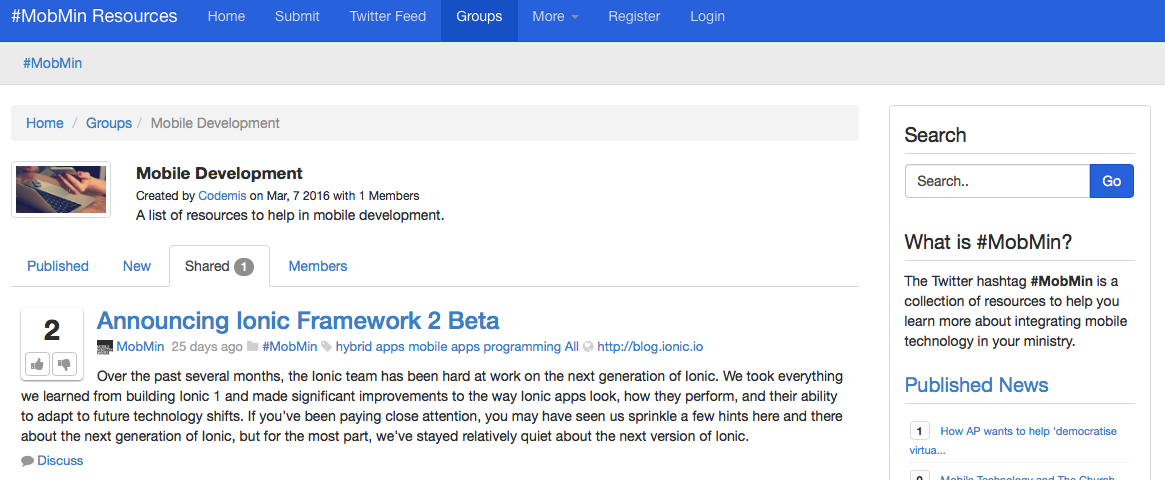 So there you have it. 5 ways you can start using the new MobMinResources.org website. Check it out and let us know what you think!