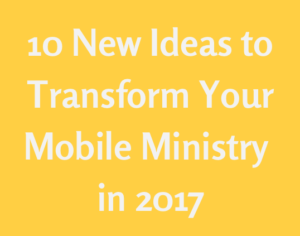 It's October and soon you'll be caught up in holidays and staring straight at 2017.
Devote an hour on November 3 to prepare an amazing year for your ministry. In just one hour you will hear 10 ideas and technologies to implement and you will be part of a new opportunity to network with others involved in mobile ministry, not just during the webinar, but afterward.
You know, afterward, when you're stuck with a technology problem and need to know how someone else solved it. Afterward, when you need to know where to get the best Bible story video for children in remote areas without internet. Or, afterward, when you have a story of triumph that simultaneously humbled you in God's provision – and you need to share it. Attend the webinar and find out how we can help you do that.
Two of our three previous webinars this year filled up. We'd hate for you to miss this one. Register now – it's free – but there is an attendance limit.
Mobile Ministry Forum webinar, 10 New Ideas to Transform Your Mobile Ministry in 2017, on November 3, 8am PT.
We will have a time for participants to share their mobile ministry resource as well as networking at the end.
Our great line-up of presenters:
You: We will have an "open mic" time to hear from people who have a mobile ministry resource to share with the larger community.
Marty Lange – leads the Mobile Technology Initiative for the Scripture Engagement team of SIL Americas Area.
Keith Williams – of WEC/Mobile Advance and the MMF team.
Liam Savage – from OneHope, working to "reach every child by 2030."
Brian James – with Frontiers, "inviting all Muslim peoples to follow Jesus."
Brandon Honsalek – of Renew World Outreach, "uses innovative technology to connect, renew and transform the world with the word of God."
Benjamin Tangeman – with TWR, "Reaching the world through media."
Clyde Taber – leads the Visual Story Network, "a worldwide movement of visual story so everyone has the opportunity to encounter Jesus and His kingdom."