The Mobile Ministry Forum held it's fourth webinar of the year with more than 50 people joining us from places as diverse as South Sudan, Holland, North Ireland, Bosnia, Ethiopia, Australia, and Southern California. 
The 10 Ideas
View the webinar recording for more details.
Mobile Ministry Made Easy Guide

is now available in Filipino and Russian versions.

The Digital Ministry Atlas gives a detailed overview of the digital terrain in 40 least-reached countries.
"Mobile is Everywhere" is a slidedeck you can use to promote using mobiles in ministry.
Renew is developing a $50 version of its Lightstream.
The Gospel Resource Index Prototype allows a user to search for all the content available for that language. The full version will be available in 2017.
The 2017 Mobile Ministry Forum Consultation will be April 7-8 in Zelhelm, Holland, in April is open for registration. We encourage you to consider the EMDC conference on April 3-6 as well.
The Your Phone-God's Glory curriculum has new video tutorials.
Scripture App Builder, Reading App Builder and Dictionary App Builder are available. You get three for the price of one on this!
12 Ways to Prep Your Short-Term Mission Team is updated.

MMF has a SLACK channel. Email

elizabeth@visualstory.org

if you would like to be invited to join.
More Resources (Comments From the Chat)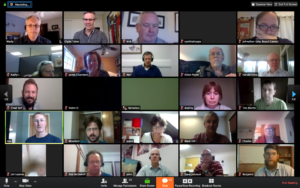 Cal: IndigiTube offers free content, sorted by country
Allan: Attention BibleBox users: WR842ND routers can still be purchased inexpensively from a supplier in Canada. If you buy four at once it currently comes out to $27 each (they charge a flat $6 shipping fee for 1-4 units).  More info.
Brian: A dedicated Bible app using the Sharif Arabic translation will be available soon. This can be used and distributed offline. It should be available for both Android & iOS. Email greatcommworkers@gmail.com for more info.
Darcie: The Reading App Builder has a neat feature to pan and zoom the images. Turn your screen in landscape mode and the text appears phrase by phrase, synchronized with the audio. VERY cool!
Brandon: They also just implemented an "offline sharing" phone to phone share button on the Scripture app.
Allan: SAB is currently also being used to develop a language diagnostic tool for Mexico ―there are 300 language variants with resources available and sometimes dozens of languages from the same family, so this is very helpful.
Darcie: Gitden Reader can read ePub files built with SAB or RAB.
Darcie: I have Gitden Read on my iPhone
Brian: I mentioned the Sharif Bible app above. If you know of people working with Syrian refugees, this is the translation that seems to be most requested. It will be ideally suited for outreach as it contains just a single translation and will look Arabic rather than Western.
John: We (FCBH) have the audio and you can get a free API from us to pull in the audio content. API Access is at http://digitalbibleplatform.com/
Johnathan: American Sign Language Bible Telegram Chat Bot.
Mark: www.TheStoryFilm.com
Brian: If anyone knows of folks in the L.A. area, there will be a great 1-day conference coming up Nov 19 called UPG-Tech with a focus on using mobiles & other tech to reach unreached people groups. A few of us here on the call will be there.
Mark: Finishing the Task Conference is December 6-8 at Saddleback Church.  
_________________________________________________________